Since 1734, St. Peter's Episcopal Church (one of the 50 oldest Episcopal churches in the country) has been serving the community in many ways. We are embarking on a plan of growth, modernization, and expanding our community involvement. As part of this endeavor, we are renovating our community hall (Phelps Hall) to meet present day and future facility needs. Our plans include constructing an addition to the existing building, which will provide a new modern kitchen, energy efficient heating and air conditioning, and new electrical and water systems all meeting today's safety and health codes.
Whether you are a member of St. Peter's church, a local resident, or a friend interested in assisting in some way to make our renovation plan a reality, we truly appreciate your support!
---
St. Peter's Phelps Hall Renovation
"Integrating our Church community within the community"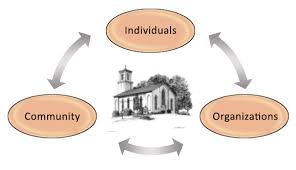 Saint Peter's Food Ministry- Improvements with Purpose
Over 18,000 meals already served at our community dinners, bringing communities together.
Each meal served helps support local charities and organizations such as AHM, HIHS, WAIM.
Our fellowship hall will be more energy efficient, inviting, and safer.
A new kitchen will help us serve meals more efficiently and maintain high quality standards.
Renovation will bring Phelps Hall into compliance with changing town and state codes.
Improvements are a welcoming sign of faith, progress, and growth for continued fellowship.
---
Renovation Summary
This portion of our proposed renovation plan will cost $160,000 which is directed at building a fully appointed kitchen (as shown above) and modernizing overall building utilities such as heating / air conditioning, electrical, and plumbing services.
All existing mechanical and electrical systems will be replaced and consolidated in a new basement located directly below the proposed kitchen. Constructing a new addition to the existing hall provides new opportunities to convert existing building space to other uses such as added storage, meeting, and teaching rooms.
Design Features
New addition is a wood structure on concrete foundation with full basement
New hydro-air gas fired heating system sized to service entire building with zoned controls
Central air conditioning system sized to cool entire building
400 amp electrical service with all new sub-panel feeds to kitchen and existing hall
Kitchen is fully appointed with all commercial grade appliances featuring a 2 minute cycle dishwasher
Abundant storage space and food preparation work areas
An above the cooking range fire suppression system to meet town and state fire codes
Bathrooms renovated to handicap accessible standards
Energy efficiency upgrades to building – new insulation, LED lighting, high efficiency furnace