We will be broadcasting live services on
Our Facebook Page
. We will also be uploading the video afterwards to our
YouTube channel
. If you have a smart television and watch services like Netflix or Hulu you also have access to YouTube channel in the same place.
Father Ron and the people of St. Peter's Episcopal Church invite you to join us for any of our celebrations of worship or parish events. We are located on Route 85, ¼ mile south of the intersection with Route 66, at 30 Church Street in Hebron.
Two Services – 8 AM (Rite I – quiet, reflective), 10 AM (Rite II – Music, chorus, families). Followed by coffee hour and fellowship. A church school program for all children, toddlers through middle school-aged youth, is available during the school year. Class time begins at 10:00 a.m. and includes worship, class time and music time, concluding with children joining their families for communion.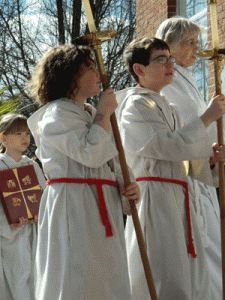 Children and Youth Ministries: In addition to the church school program St. Peter's offers a variety of programs for our younger members including special events for children (e.g. movie nights, Halloween Party, Christmas Pageant), children's outreach projects, youth Confirmation program, and youth events (middle school and high school) including those in conjunction with area Episcopal churches.
Our Ministries, Events and Programs: Life at St. Peter's is active and diverse, where children are not only welcomed but are very much an integral part of the life of our community. Ongoing outreach efforts target needs in Hebron and the surrounding communities, offering parishioners opportunities for volunteer service. We are an active member of the Diocese of Connecticut and support its mission work (through service and financial support) both within the diocese and internationally through the work of Episcopal Relief and Development, the outreach arm of the Episcopal Church. Our locally famous community dinners are held monthly from March through November and seasonal events such as the Hebron Maple Festival, Tea and Tunes,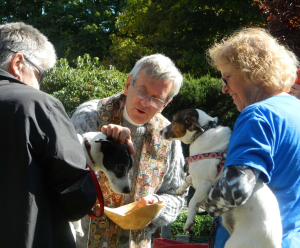 the Blessing of the Animals and St. Nicholas Fair have become annual affairs. A Prayer Shawl Ministry reaches out to parishioners facing physical and emotional difficulties in their lives while the men's and women's groups offer opportunities for fellowship, fun and service. A creative liturgical schedule provides special celebrations during Advent, Lent and Holy Week that are designed to engage both young and old alike.
You will find more information about these services and events on this website. If you have any questions, feel free to call or email us through the church office where our parish secretary Claire is ready to assist you.