St. Peter's St. Nicholas Fair is Almost Here!!!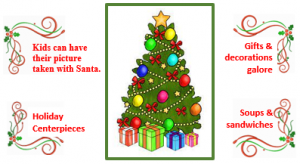 On December 2nd from 9:00 a.m., to 3:00 p.m., holiday shoppers will be treated to a country store with home-made jams, jellies, a bake table of breads, pies, baked goods, and other holiday treats. There will be a gift- giving table, an Attic Treasures & a jewelry table, homemade craft items, needlework, RADA cutlery and mixes catalog for ordering, and the finest vendors. Greened centerpieces and cemetery boxes will be for sale.
Bagels & donuts will be available for breakfast or brunch. A luncheon will feature our homemade chowders, chicken salad, tuna salad, egg salad sandwiches, and hot dogs.