Church School starts on Sunday September 17th, 2017 at 10 AM. If you haven't attended before, you may fill out our Registration Form or come to church on that day.
Each Sunday morning, St. Peter's welcomes all children, from toddlers through middle school, to attend our church school program available during the school year.
Starting at 10:00 am each Sunday, church school includes:
10:00 – 10:05 am: Circle time worship service led by church school teachers
10:05 – 10:35 am: Class time (in grade level classrooms) going over the week's lesson
10:40 am: Children join their families for communion in church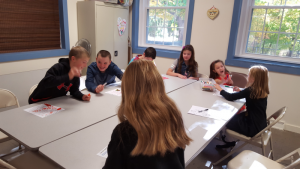 In addition to regular lessons, there are weeks set up for group projects, special stories and activities and music throughout the year.
Some of the special activities are:
Blessing of the animals service (October 9, 2016)
All Saints Day Celebration / Youth Service (November 6, 2016)
The Christmas Pageant (December 18th, 2016)
4:30 PM Christmas Eve Family Eucharist (December 24, 2015)
Communion classes for children during Lent (February/March 2016)
Easter Pageant (April 33, 2016)
Throughout the year there will be opportunities for parents and children to join together for special seasonal projects, including preparation for the Christmas and Easter Pageants, creating Valentine's Day cards for our older members and outreach projects that support local assistance agencies.
Weren't able to attend a specific week? Looking for more material to go over at home?
Check out our church school schedule with bible verses and additional resources.