What just happened!!!
On Sunday Holy Eucharist at 8:00 a.m. Rite 1 & 10:00 a.m. Service of Holy Baptism we celebrated the Nineteenth Sunday after Pentecost.
The Holy Gospel: Mark 10:12-16
People were bringing little children to him in order that he might touch them; and the disciples spoke sternly to them. But when Jesus saw this, he was indignant and said to them, "Let the little children come to me; do not stop them; for it is to such as these that the kingdom of God belongs. Truly I tell you, whoever does not receive the kingdom of God as a little child will never enter it." And he took them up in his arms, laid his hands on them, and blessed them.
HALEY JORDAN CONE and ZOE SOPHIA LEONE were baptized at the 10am service….Congratulations and Welcome!                                                                                        
Also notice all of our restored stained glass windows have been installed. A service of dedication will be held in the fall.
Church School is off to an exciting "new" year! We begin our morning @ 9:55 with a prayer circle for primary and intermediate-age children (and parents if they'd like can join us), then go to individual classes for discussion and activities related to a Bible Story; the children join their families for Communion at 10:45.  Our church website will have church school information available  – please check it out!
The 2nd Annual Pumpkin Festival was held on Saturday and Sunday!!! Many days of hard work – many hands!  Especially a big thanks to Rick and Laura Beaudoin and family for all of their hard work, insight, and long hours. Sue Ostrout for an amazing Silent Auction! The Atwood family and helpers for the kids games! Ruth Patros for the tag sale!  Curt Kraemer for the Luncheon! Georgette Conrad and Alberta Pomprowicz for being the cashiers! Jack Gasper for the Hay Rides and the auto, truck, and tractor displays! Joan and Ron Churney for many, many trips to the annex, home, set up and organization! Barb Parkyn, Chris Eells, and Diane Sayers for the bake table!
WOW!  We achieved great success with the Pumpkin Festival!  Thanks again to everyone who helped make the event a success including parishioners who worked and community friends who purchased items.  Once all the sales are completed, we should have cleared the $7000 mark.  Great job everyone!
All proceeds will benefit St. Peter's Kitchen & Hall Renovation Fund
This Pumpkin Fest Luncheon was the first ever TWO DAY Luncheon, and made more money than any other previous luncheon.  A special thanks to my regular helpers, Steve Platz, Dan Osmond, Bill Kreck, Chuck Eaton, Bob ManWarren, and a very special thanks to my two new rookies, who performed flawlessly, Marcia Eaton and Joan Churney.  Curt Kraemer
ST. PETER's Pumpkin Fest….FRONT PAGE NEWS WITH PHOTO … JOURNAL INQUIRER…MONDAY,OCTOBER 5, 2015…Check it out!!!…additional photos on page 4!!!
Pat & Bob Kell buying squash/pumpkins – Jack Gasper giving kids a hayride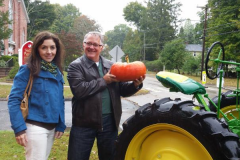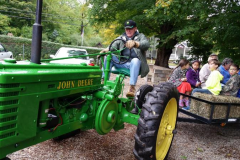 Len Babin & Rick & Laura Beaudoin staying warm and dry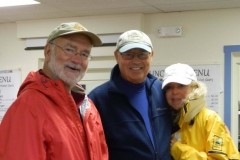 Blessing of the Animals service took place on Sunday at 2pm in the Memorial Garden. It marked the annual celebration for St. Francis of Assisi, the patron saint of animals . (More photos on website)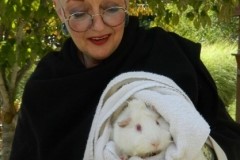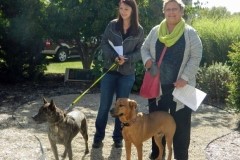 Enjoying the Blessing of the Animals service were Stephanie Wheeler with Charlie and a couple of "man's best friends" who were looking forward to the treats following the service!!!
Don't Miss!
Tuesday, October 6 -Choir practice 6:30-8:15 pm
Wednesday, October 7 – Buildings & Ground meet 7 to 9 pm.
Every Wednesday 7:00 p.m. — Holy Eucharist with service of Healing. A lovely, quiet soul-refreshing informal service held in the church
Thursday, October 8 – Fundraising Committee 7 – 8pm – Discuss German Dinner (October 17), Discuss Roast Pork Dinner (November 14th), Discuss St. Nicholas Fair (December 5th)
Saturday, October 17, 2015…4:30 – 6:30 Homemade German Community Dinner  Oktoberfest!  Bring your family and friends to taste and enjoy an authentic tradition!!!
Nuts and Bolts!
A message from the choir loft: Stop on by and lend us your voice!!!  Don't be shy –CALLING ALL SINGERS!!!!  We meet on Tuesday evenings from 6:30 – 8:15 and Sunday mornings at 9:05 to rehearse.  Anyone interested please come and talk to the organist (Josh Ziemski).
Ministry Opportunity– St. Peter's needs chalice bearers for the 10 am service.
Acolyte training – Classes are following the 10 am service and last about 20 minutes for 6-7 weeks. 8 years old and older. Contact JoAnn Osmond for details.
Father Perry in Memorial Garden