What just happened!!!
On Sunday 8:00 a.m. Rite 1 & 10:00 a.m. Rite 2 we celebrated the Seventeenth Sunday  after Pentecost. 
The Second Lesson: James 3:13-4:3, 7-8a
Who is wise and understanding among you? Show by your good life that your works are done with gentleness born of wisdom. But if you have bitter envy and selfish ambition in your hearts, do not be boastful and false to the truth. Such wisdom does not come down from above, but is earthly, unspiritual, and devilish. For where there is envy and selfish ambition, there will also be disorder and wickedness of every kind. But the wisdom from above is first pure, then peaceable, gentle, willing to yield, full of mercy and good fruits, without a trace of partiality or hypocrisy. And a harvest of righteousness is sown in peace for those who make peace.
Those conflicts and disputes among you, where do they come from? Do they not come from your cravings that are at war within you? You want something and do not have it; so you commit murder. And you covet something and cannot obtain it; so you engage in disputes and conflicts. You do not have, because you do not ask. You ask and do not receive, because you ask wrongly, in order to spend what you get on your pleasures.  Submit yourselves therefore to God. Resist the devil, and he will flee from you. Draw near to God, and he will draw near to you.
Congratulations Father Perry….Wearing a BIG smile…he announced from the pulpit that he got engaged over Labor Day to Lynn Hassouna. She joined us for the

10 a.m.

service and coffee hour!!!
On Saturday

, the Fundraising Committee proved that people can't wait for the season of those delicious big turkey dinners….we sold out in less than 1 hour!!! and added $1,691 to our fundraising total for the year….thanks for all the dedication and help…Gobble, Gobble.
We joined in on the Hebron Historical Society's "Hebron Historic Day" this year, which was held

on Saturday

from

10-4pm

…. St. Peter's was open to welcome visitors to see our restored stained glass windows and learn about the fascinating history of the church in Hebron's life…thanks to our distinguished team of "docents"…. Candace O'Shea, Judi & Len Babin, Nelson Moore, Marcia Eaton & John & Susan Ostrout
Attention ALL Drivers!!!…Here's your chance to improve your parking lot "etiquette"….Thanks to Buildings and Grounds we now have one-half of the parking lot done with yellow stripes and one happy face…. the other half will be completed within two weeks (weather permitting).  Thank you Curt Kraemer, Rich Kraemer, Dan Osmond, Chuck Eaton, Bob ManWarren and Jack Gasper.
Church School is off to an exciting "new" year! We registered 10 children this past Sunday.  We begin our morning @

9:55

with a prayer circle for primary and intermediate-age children (and parents if they'd like to join us), then go to individual classes for discussion and follow-up of a Bible Story; we join our families for Communion at

10:45

.  Our youth classes have not yet started, but we will be sending out information soon.  Classes include: Pre-K/K – Sarah Messenger, Kelsi Marks & Robin Messenger; Grades 1-3 – Barb Parkyn; Grades 4-6 – Rob Mangiafico; Youth – Judi Babin.  Our support staff includes – Robin Messenger, Barbara Alexander, Mary Cheney and Allison Forrest.  Our church website will have church school information available soon – please check it out!  If you have questions, please call Father Perry @ (860) 228-3244.  By Barb Parkyn
Tuesday, September 22 –Choir practice 6:30-8:15 pm
Every Wednesday 7:00 p.m.  — Holy Eucharist with service of Healing. A lovely, quiet soul-refreshing informal service held in the Memorial Garden when the weather permits.
Saturday, October 3rd from 9-4 p.m. and Sunday, October 4th from 12-4 p.m. The 2nd Annual Pumpkin Festival .  We need your fall and Halloween items you are not using anymore.   Silent Auction (think about what you can donate).  New or slightly used items that are special or unique, unused gift certificates.  So far we have a weekend on Cape Cod, $500 gift card to Williams Sonoma, artwork, jewelry, wind chimes, collectible Santa Claus and a rug.  Please help us out.
 Needed for Silent Auction:  Clip Boards (put your name on the back and they will be returned).  Please contact Susan Ostrout with your ideas.  
Sunday October 4th 2 pm we will hold the annual Blessing of the Animals service to celebrate St. Francis of Assisi patron saint of animals on his special day. Bring your animals, large or small, to this lovely service in the Memorial Garden at Saint Peter's. We will also be collecting pet-related items (cat food, dog food, litter, etc.) to be donated to local animal shelters. If anyone would like to have a pet's ashes interred in the memorial garden in the section devoted to animals, please bring them on Sunday. There will be a service for interment of pet ashes.
Nuts and Bolts!
A message from the choir loft:    CALLING ALL SINGERS!!!! The choir is looking to add some Tenors and Basses to our ranks. Sopranos and Altos are always welcome too. Any men or women that would like to sing come join us Sunday mornings at the 10 am service to sing. We meet on Tuesday evenings from 6:30 – 8:15and Sunday mornings at 9:05 to rehearse.  Anyone interested please come and talk to the organist (Josh Ziemski). Stop on by and lend us your voice!!!  Don't be shy
Ministry Opportunity– St. Peter's needs chalice bearers for the 10 am service.  Currently there are only three people who are called on multiple times a month to help Father Perry serve the Eucharist on Sundays.  It is a very meaningful ministry, and if we can increase the number and get more people trained (very easy) the assistants would only have to serve once every month or so. If you might be interested, please speak with Fr. Perry!

 The office of Mission Integrity and Training is offering a one-day special event on Sat. Oct. 17 for people who want to learn more about keeping a healthy, safe church and have questions related to social media, elder care, LGBTQ matters, and welcoming the differently-abled.  Over the past few years, these four topics have prompted the most questions from Safe Church Training attendees. Free. Preregistration required. 9 a.m. – 4 p.m., Camp Washington, 190 Kenyon Rd., Lakeside. www.episcopalct.org
 JoAnn Osmond announced that she would be starting another Acolyte training and invited anyone interested if they are 8 years old or older to attend.  Classes are following the 10 am service and last about 20 minutes for 6-7 weeks.
 Please take a moment and check out our new website designed by Robert Mangiafico:  https://www.stpetershebron.com,.
 Some of our volunteers at the Turkey Dinner, Albert Pomprowicz, Chuck Eaton, Audrey Gasper, Barbara LaMay, Mary Latour and Marcia Eaton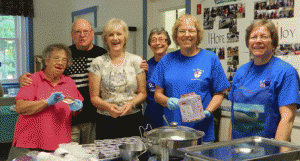 Are you reading all the sayings being posted on Our Comfort and Joy website?  Here is an example!  https://www.facebook.com/#!/thecomfortandjoycommunity